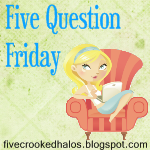 Flu mist? Flu shot? Or take your chances? I always go with the Flu shot. Being asthmatic, it's pretty important that I get it. That, and the fact that they give them to the whole family for free through my husband's work. (One of the advantages of him work at a major University/Hospital.)
Do your kids have iPads? What are some good educational apps? Price? No iPad here. I do have a Kindle for myself that the kids use occasionally and Pete has a VTech Innotab with a bunch of cartridges. For the Kindle, one of my favorite educational apps is Tracing ABC (Free). It's a free app that teaches the kids how to trace various letters and numbers. Since we've had a hard time getting Pete to work on his letters, this has helped a lot.
What are your favorite boy/girl baby names? I've got a few of them. My all-time favorite boy name is Theadore. It's my dad's name, which is why I made sure that my eldest son was named it as well. I also really like the name Galen. (And the name Peter has grown on me - that one was Rich's choice, after his grandfather.) For girl's names, I've always loved the name Anastasia. I don't know what it is about it, but I absolutely love it.
If an apple a day keeps the doctor away, which apple do you choose to eat? (red/green, gala, red delicious...) I've never been a big raw apple eater. I'm the opposite of my husband in that way - he hates cooked apples but loves them raw, and I don't care for them raw but love them cooked. If I've got to eat an apple, though, I usually will go for a gala or a jazz.
What is your favorite place to escape to for peace & quiet, to think? Why? I don't really have a place any more. When I was younger, it was the pond next to my parents' property. There was a rock just on our side of the property line and I would sit and think, watching the stillness of the pond. Now that I'm older and have a lot more responsibilities, I don't have the time to escape and think as much as I need it. Most of the time, when I can, it's escaping to my room for some quiet time. Usually with either a book to read or a pen and paper to write on.
Do you want to take pare in today's Five Question Friday at My Little Life? Then type out the answers in your blog and
link here
. Take a few minutes to see what answers some of the other bloggers have as well.