I'm back again for Friday Fragments with Mrs. 4444. I've got more than a few things to share today.
The best bit of news is that I'm an aunt again. Last night, Rich's sister gave birth to her second child, a beautiful baby boy. Mom and baby are both well, and all of us here in TN are wishing we could be up with them to see the newest member of our family.
Today has been a home-bound day for all but Rich. We've had the first snow day of the school year here in Nashville. We got a small amount of snow overnight and some of the back roads were still iced. Because of the way that the buses run in the district, it's an all or nothing thing - if they were to delay school, it would be a logistical nightmare. So the kids have been home from school today, and loving every minute of it. I just wish there had been enough snow for them to really enjoy it. Maybe next time.

Earlier in the week, we'd planned for one of Teddy's friends in the complex to come by and play for awhile. I wasn't sure how things were going to work with them being out of school, but his mom called about 90 minutes ago and asked if it was still ok. The boys are all having a blast - even if my youngest is still naked.
I managed to be disappointed in Goodwill today. I headed over with the boys this morning, hoping to find a couple things on the cheap. Mainly, I'm trying to get a couple used cookie sheets that I can use for the chore chart and some kind of handled base that I can put my silverware caddy on. I also thought I'd possibly pick up some new sneakers for Teddy (since his are almost falling off his feet) and some jeans for Rich. What did I find? Nothing that I wanted. The kids got some cool things, including a cute green bear and, a big find for Teddy, a Plastic Man Tot from Sonic. (He's a huge Plastic Man fan.) But anything that I wanted? No luck. I may try Big Lots tomorrow instead.

I finally decided when I'm having Teddy's 7th birthday party. His birthday is directly mid-week, so one weekend is as good as another. We decided to go for the Saturday before rather than the Saturday after, since one of his friends might be out of town the weekend after. I'd wanted to take them bowling, but it's a lot more expensive than I'd expected! So, once again, we're doing Chuck E. Cheese. Luckily, I've got plenty of tokens and lots of coupons for more. We never do the official party - too pricey. But the kids always end up having a good time anyway. One of these days, I will have a house where I can have a party at home!
This weekend is going to be a busy one. Tomorrow is our usual library trip, plus a trip to Big Lots and a bunch of cooking to get ready for watching the Super Bowl on Sunday Night. I'd love to be able to put the cooking off until Sunday, but we won't be home until it's time for the Super Bowl. Rich and the boys have church from 9 until around 11:30 (90 minutes of Religious Education classes for Teddy, followed church for all three of them for an hour). Then there's a Pokemon pre-release tournament happening at 12:30. We should be out of there in time to get home and watch the Super Bowl. I'm a casual football fan, but I do love watching the commercials.
I'm actually making one of the recipes I saved on Pintrest tonight. Chili Cheese Dog Casserole. If I'm lucky, it will be something both my kids will eat. I'm actually getting a few other things out of my Fabulous February board over the weekend with what I'm making for the Super Bowl. Ham and Dill Pickle Appetizer Bites (mainly for Rich and the boys), Crab Rangoon Dip and Meatball Stuffed Biscuits. I'm hoping during the week to actually get a few of the projects done. We'll see how that goes.
Next up in the Meme schedule is
This week's topic is one after my own heart - books. As I've mentioned numerous times before, I love to read. It's my favorite way to escape.
So what do I like to read? It really changes depending on the mood I'm in. Lately, I've been in a big urban fantasy mood with a smattering of paranormal focus. I've got a tendency to read through full series at a time, grabbing as many as I can get my hands on and only pull out of that mood when I have nothing left to read. It's how I read through Lynsay Sands' Argeneau series, and Jeaniene Frost's Night Huntress series. Sometimes, I'm a little tired of the paranormal and move into mysteries. I love Agatha Christie. Every once in a while, I get in the mood for non-fiction. Then it's usually some kind of tutorial or self-help book, or a biography. Those always interest me.
There's only one genre that I've tried but not been able to get into and that's westerns. I'm not sure why, but it just hasn't interested me. Maybe it's because I'm a romantic at heart, and most of the stories I read in the other genres cross over into romance. Though, oddly, I also don't like straight romance. I've got to have some kind of intrigue or some kind of hook. Bodice rippers just never kept me as interested.
You may wonder what I'm reading now. Well, it's a long list. I read a lot of things at once, bouncing between books depending on the mood I'm in or the location I'm at. Some of them are paperbacks, some hard covers, some e-books and some audio books. Some I'm reading with my kids. The list is:
Harry Potter and the Sorcerer's Stone by JK Rowling - this one I'm actually reading with Teddy and Pete every night at bedtime, once chapter a night. Pete's not really into it, but Teddy's loving it. He's even chosen a Harry Potter cake for his birthday cake.
The Alchemyst by Michael Scott - This is the first book in The Secrets of the Immortal Nicholas Flammel series. It's a reread for me, but I'm wanting to bet back into the series. I blame Adam at Roof Beam Reader. He had it on his TBR Challenge list.
Have a New You By Friday by Dr. Kevin Leman - With all the issues going on with me, I'm thinking anything that could help me figure out who I am and what I want is a good thing. When I told my therapist I was reading it, she was very glad to hear it.
Fantasy Gone Wrong, edited by Martin H. Greenberg - This is a book I'd picked up at the library book sale a couple years ago and had been wanting to read for awhile. It's on my TBR Pile Challenge so I'm trying to get through it. Being an anthology, it's perfect for quick reads.
Harry Potter and the Prisoner of Azkaban by JK Rowling - I'm listening to this one at bedtime. I'm the kind of person that needs something playing to fall asleep to. And since I've read this one numerous times (it's my favorite of all the books in the series), it's one that I don't need to worry about missing anything when I fall asleep.
The Color of Magic by Terry Pratchett - I've long been told I need to read the Discworld series. And when I saw it cheap in ebook form, I decided that now was the time to pick it up. It's slower going, because I've been grabbing other books instead.
And this isn't even the books that I have out of the library or I have waiting at the library for me but haven't started or the book that I'm desperately wanting to read but haven't requested yet (
Bristol Boyz Stomp
by Doreen M. McGettigan - someone I'm getting to know through blogging circles and hope, one of the times I'm back in Philly, have a chance to meet again.) My reading list is always too darn long!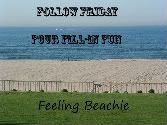 Of course, I can't have a Friday happen without joining Follow Friday Four Fill-In Fun at Feeling Beachie!
I was probably the only kid in the world who watched just one channel growing up. Ok... not the ONLY kid - there were others where I grew up as well. But out in the country, where we were too far out for cable and satellite wasn't an option, we were left with what we could get on the antenna. And what we could get was Channel 12, WBNG, the CBS station out of Binghamton, NY. Sometimes, if I was really lucky, I could get snowy stations out of New York City late on Friday nights. But that was never a given.
Mango is my favorite juice. When Rich and I lived in Philly, we regularly went to an Indian restaurant that gave free mango juice with their buffet. Between that and mango juice's appearance in a Sandman issue, I was hooked.
I never thought I would make a good mom until I became one. Seriously. I was always scared to death that I'd be a horrible parent. When I was a kid, I was so bad to my sister that I was convinced that I would make a horrid parent. And when I was a bit older, I hated being around kids. I was nervous and uncomfortable, never sure how I should treat them. but once I had my boys, I realized that it's a lot harder to screw them up than I thought! I make my mistakes, but on the whole, I'm a good mom.
I have always wanted to travel outside the US but never had the money or passport. It's still on my Someday list.
And now for the last meme I'm participating in today (though I will be back with my 30 Days of Blogging Prompt replies and my Daily Challenge post), I'm joining up, once again, with Mama M. at My Little Life for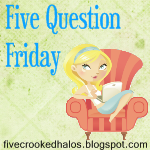 What is your favorite book to read with your kids? That's almost like asking who my favorite kid is! I can't choose just one! Right now, I'm loving reading Harry Potter and the Sorcerer's Stone a chapter at a time to the boys at night. It's a little more than Pete's speed, though, so for him, I love reading Dinos To Go by Sandra Boyton. I really get into each of the dinosaurs in the book. I also love reading The Mine-O-Saur by Sudipta Bardhan-Quallen (hoping to teach my boys a lesson), Big Plans by Bob Shea and Instructions by Neil Gaiman (one of my all time favorite books ever).

After having kids, what body part has changed the most? I dunno if any really has. I've always had about the same shape so that doesn't fit much. I'd probably have to say my ears. I hear things I'd never heard before. Most moms will probably tell you the same.
Would you ever go back to college? What would you study? Oh yes, I'd love to go back to college. One of my biggest regrets is that I never got my degree. There are so many things that interest me, though I don't think I'd go back for math (which was what I'd originally planned on getting my degree in). Lately, I'd have to say psychology. The human mind fascinates me.
How do you close a phone call? Bye, bye bye or other? It depends on who I'm talking to. Family, it's always "Love you!" For friends, it's usually, "Talk to you later!" Unless, of course, I'm distracted and forget who I'm talking to and will tell a friend "Love you!"
What is the one food that will always be your "cheat food" on a diet? Ice cream. I'm a HUGE ice cream fan. As a matter of fact, I stopped at Baskin Robbins today because I wanted some rocky road so badly!
That's all I have for this Friday Full of Memes! Please, click on the buttons for each of the memes above and go check out some of the other wonderful bloggers that have linked up today. There are lots of great answers and great stories out there!